Playing with Fire
Before I started in this business, I had developed a strong interest in graphics programs for use in Web design. I explored most of the applications I could design with and use to compress graphics efficiently.
Macromedia Fireworks version 4, released late 2000, has become my graphics software of choice for generating and compressing images for the Web. Several months ago, a friend of mine, Linda Rathgeber, invited me to join her in writing a book about creating web graphics using Fireworks 4. The result is "Playing with Fire", published in July 2001.
If you're interested in preparing graphics for the Web, I'd recommend Fireworks, and (of course) Playing with Fire as a guide to the sort of things you can do with Fireworks.
Unfortunately it's now out of print, although you can still find remaindered copies. It sold more copies than any other book devoted to Fireworks 4. It's still very useful for Fireworks MX and Fireworks MX 2004.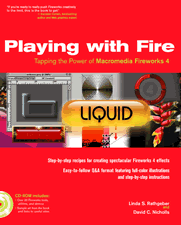 The book isn't a 'how to operate the machinery' type of book, it's a guide to the creative things you can do with Fireworks. Take a look at it on the Amazon site.
---
This page last updated 13 December 2003